Classified Web Order Entry


The Newzware Classified Order Entry system is probably the easiest and most powerful on the market today. Imagine placing that power and ratcheting the simplicity up a few notches so that your transient advertisers produce, proof, price and pay for their Classified ads without media staff assistance. Instant consumer satisfaction that reduces your overhead is a true win-win.


What We Offer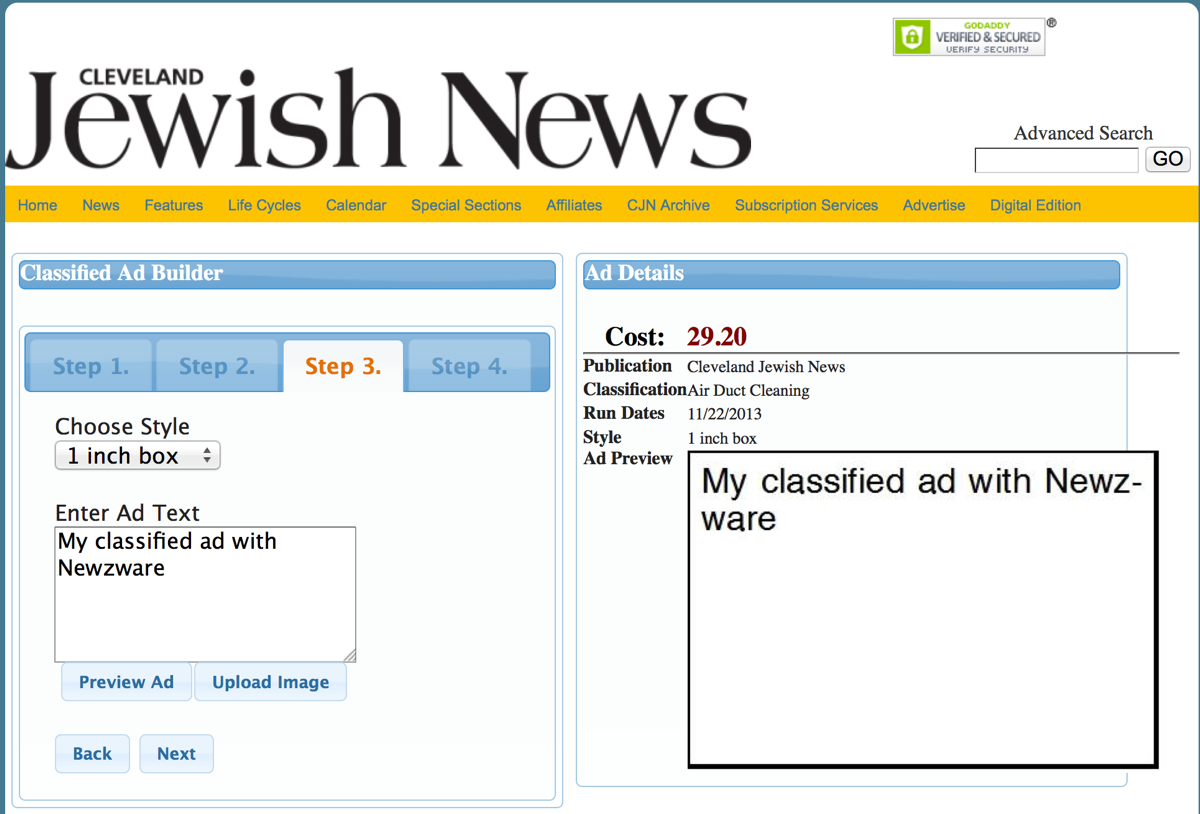 The Newzware web Classified product is singular. How you wish to involve us will determine the path we travel together.

Turn-Key - You provide the host server or we will host the application as part of our SaaS community of services. Using your specifications, we will craft a web order entry system using the Newzware Web Classified Order Entry Toolkit and deliver a ready-to-use component to your web site that mirrors your policies for receiving and processing Classified Ads.

Or - Kit Form - We work with your web developer to consult and place specific features and applications to match their expectations of process and accuracy.

In either solution, you receive a database driven Classified Order Entry System integrally tied to your in-house Order Entry System with all the same rules and procedures, but simplified for the transient customer. You specify payment methods, rates, credit checks, forbidden words/phrases, picture format for uploads and available styles. You can choose menu driven ad creation for common ads such as Garage Sales, Auto Sales, Home Sales, and etc. with easy transition to up selling. Be as simple or complex as you desire. A brief Features Synopsis:



Ad text entry - anytime
Up-sell options such as Bolding, Underline, Color text, frames, stock logos, imported pictures and logos and much more
Same or independent ads for print and online representation
Instant pricing for both Internet and print ads
Proofing, email and fax, of any ad
Secure payment considerations
Database Integration with Circulation, Display and Pagination applications


With the Newzware Extensions Module, capture and store demographic information for each customer and build campaigns that target their needs and expectations. There is also complete integration with Newzware Circulation Management System and its Web Self-Service component so up selling could include subscription gains. Discover more...