Editorial Tracking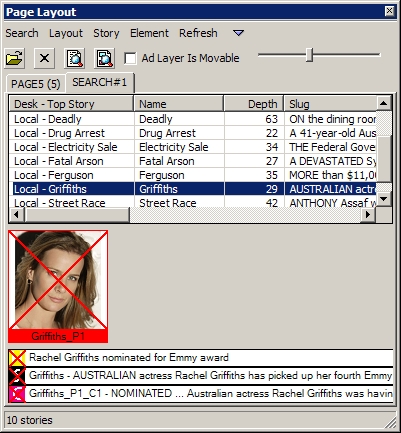 An Editorial System with the accent on simplicity and performance. Easy to install and easy to maintain, a system to suit InDesign users from the smallest workgroup to the largest enterprise system, Pongrass Editorial Tracking manages every element of the page production process.

The Editorial Tracking System is a suite of programs that allow multiple workstations to collaborate in the makeup of finished newspaper and magazine pages, ready to output to PDF or direct to image setter. The heart of the system is the SQL compliant Editorial Database, tracking and controlling all aspects of the production process. Every element of the page production process including graphics, stories, pictures, ad and standing elements are registered in the database and ready for use in the composition process. InDesign is connected directly to the database allowing the quick generation of pages for an edition. Folios and other standing elements are placed automatically; ads and ad rules are placed according to the selection of layouts held in the database.

Database support includes Microsoft SQL Server and the Sybase ASA database engine. The Editorial database is a true relational database supporting industry standard SQL. Tracking multiple story versions, ads, standing elements, multiple editions, publications and zones over an extended period of time is achieved with high performance on standard file server hardware.


Internet Publishing

The database was designed with content re-purposing in mind and XML data transfer lies at the heart of the editorial web server publishing process. Newzware Web Ad Server interfaces directly with the database to allow real-time Internet publishing.


The Ad Stack

PEPL is the unique application that connects InDesign to the database. PEPL loads all the ads for an issue in a single operation. Ads can be loaded before they are produced, and on final production will automatically appear on the correct page, printable and fully previewed. Late ads and moved ads are handled automatically.


Photographs and Graphics

All elements to be used in the system are registered in the database. Extracted information such as Captions, Headline, Keywords and Category are applied to the database along with thumbnail and other preview data during the registration process. Story allocator allows browsed based photos to be dragged and dropped on to associated pages.


Housekeeping

The tedium of housekeeping is at an end. Purging and archiving are now background processes controlled from the database.


Features:
Automatic purging and archiving
Story Styles held in database
Object or content oriented page layout
Fully automated page jump facility
Integration with Management Console
Internet Publishing option
Auto flow of graphics and text
Auto resizing of text boxes
Low cost Journalist Editing option
Automatic zoning of stories through complete story
Discover more...