News Editor

The next generation of news editing software is here with News Editor Version 6. Using a standard web browser, News Editor is the optimum solution for the newsroom or remote desk reporting worldwide. Like other components in the Newzware Newspaper Business System, News Editor fully integrates with the Newzware Database. This database centric approach allows for extreme flexibility and more importantly, accountability.


Thin Client

News Editor uses a standard web browser with no local program required. News Editor is fully featured and enables the same program to be used in the newsroom or remotely from any location with Internet access. User preferences are stored on the server, allowing journalists to use any available terminal and meet deadlines.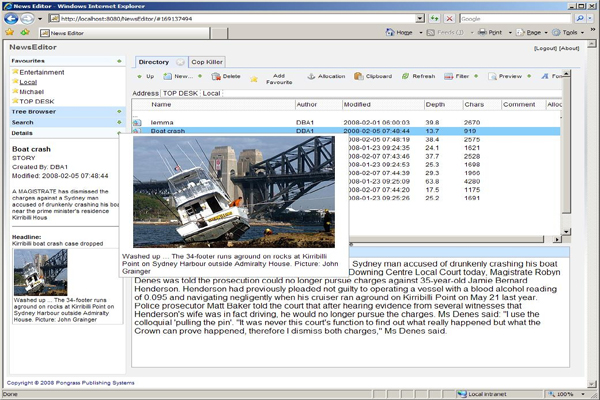 Version 6 Database

Like other components in the Newzware Newspaper Business System, News Editor fully integrates with the Newzware Database.


Remote News Desk

Remote users with an available Internet connection have the same feature-set as the newsroom. Version 6 uses advanced AJAX technology to reduce communication overhead across the network. Typical broadband users will experience no difference between remote and local newsroom response times.


Advanced User Interface

A tree view displaying all newsroom desks across the enterprise is supported. User desktop settings can be extremely customized for maximum productivity, and these settings are held in the user's log in preference. News Editor styles integrate with InDesign and Quark Plug-in/Xtensions.


Spell Check/Thesaurus

Along with the server-based spell-check/thesaurus, News Editor enables browser-based spell-check, as you type, facility by downloading custom dictionaries.


Picture Integration

Pictures can be attached to the article, along with captions and notes with the click of a button. Uploads take place in the background, useful when available off-site remote Internet connections are slow.


Layout Aware

With the appropriate security login, users can allocate stories, pictures and story elements directly to the page. Previewing capabilities allow the user to check other page elements to monitor conflicts. Ads and stories are attached to the page in real time.


Features:
Full featured browser-based client, cross platform
On Screen layout
Low communication overhead
Industry standard hardware
Easy navigation
Options
Classified Pagination
Classified Booking
Display Ad Booking w/ Billing/Accounts Receivable
General Ledger
Discover more...